PRECISION HANDLING
PRECISION MEDICINE ALLIANCE is creating together with all stakeholders an sustainable "PMA Industry Standard" for value-based Precision Medicine focusing on the unique identical measurable outcome for every patient on the molecular level by following Standard Operation Procedures in standardized PM Process Protocols following the PRECISION MEDICINE VALUE-CHAIN.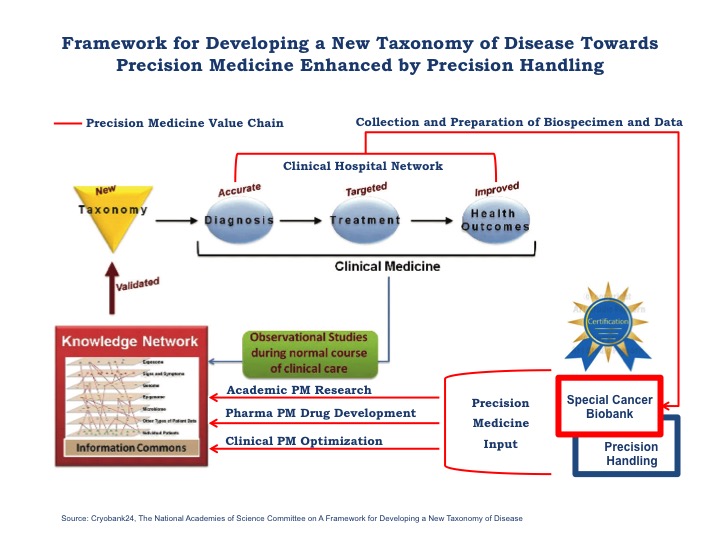 One very critical point in the respect to value-based precision medicine is to save the integrity of Precision Medicine Samples at the highest standardized level (Biobanking 4.0), either it is tissue from surgery or biopsy or if it is blood and especially when we are working directly with living cells. Though the PRECISION MEDICINE ALLIANCE created to this respect the new technical term "PRECISION HANDLING" and we give you here as patient or health sciences professional insight what it is need for the integrity of the biospecism we are analyzing on the molecular and biochemical level: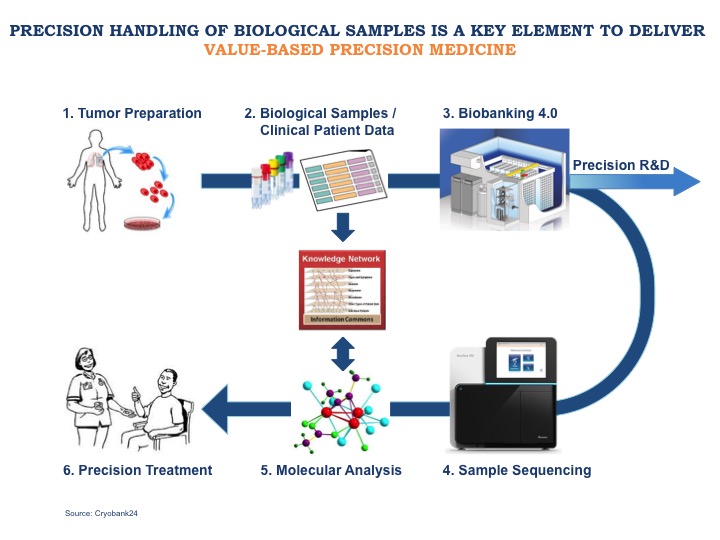 "Precision Handling is key for establishing a world class value chain for precision medicine"
Growing amount of clinical tissue and cells for precision medicine analytics, research and drug development
Individuals are increasingly storing their tissues and stem cells for future treatment
Challenges
Out-dated manual in-house storage capacities in ULT-fridges and cryotanks
Limited in-house competence as storage is considered a non-core activity
Limited financial funds available to invest into state-of-the-art technology
Traditional infrastructure of Ultra-Low-Freezers and Cryotanks bears high risks:
Quality:
Small samples are very vulnerable to room temperature. Frequent manual access to samples increases the risk of deteriorating not only target samples integrity and value, but also samples in their direct vicinity during picking procedure
Cost:
Increasing manual picking of individual samples will increase personnel costs, investments and the risk of human error
Time:
Manual picking and scanning is time consuming, complexity and risk of human error increases with the growing amount of individual samples retrieved manually
Manual access to one sample exposes many samples to room temperature risking deteriorating all samples integrity. In consequence risking the integrity of samples endangers the quality of the biobank
Specimen are processed in the identical way to be highly comparable
Specimen are processed as quickly as possible to conserve the molecular profile and biochemical situation of the cancer cells as they appear in the patient
Each Specimen is linked to a comprehensive and complete set of clinical data that includes follow-up information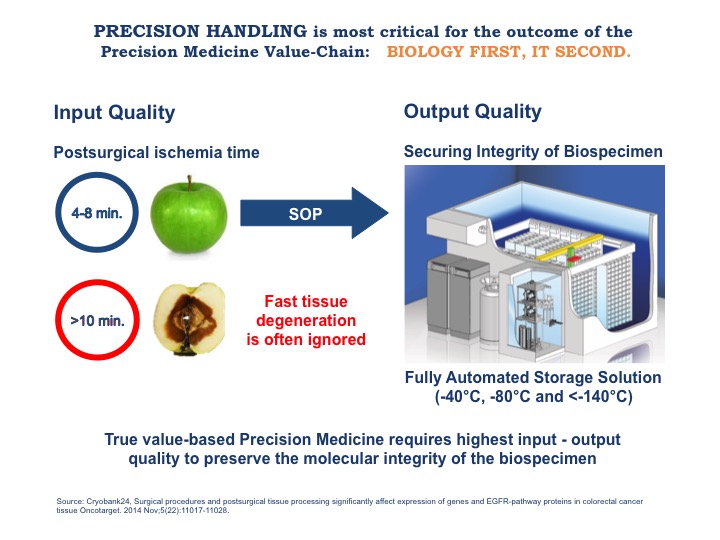 To maintain the value of a special cancer biobank no cutbacks in sample integrity are acceptable; Precision Handling is most critical for the outcome of the value chain in Precision Medicine: Biology first, IT second. True value-based Precision Medicine is only possible giving highest respect to input and output quality to preserve the molecular integrity of the biospecimen.
In contrary todays samples are analyzed using high end sequencing technology but stored in low end manual storage devices
Best of class Precision Handling reduces the risk of deteriorating sample integrity to a minimum. Manual storage of samples is replaced by a fully automated storage systems with single tube picking. Automated storage solutions are a quantum leap in documentation and quality of frozen samples. Automated storage solutions are a quantum leap in quality of frozen samples by constantly maintaining their integrity to deliver highest patient outcome quality.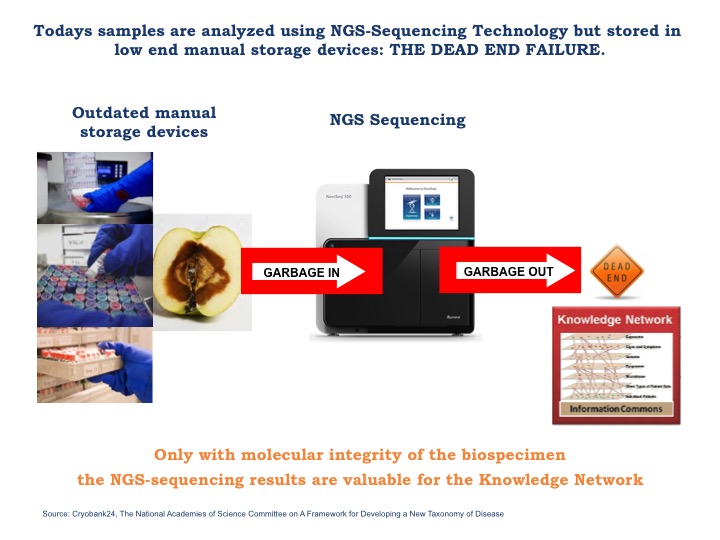 Precision Handling of biological samples is a key element to deliver value-based Precision Medicine.